Easter seemed like the perfect opportunity to browse our books for series that feature chocolate and sugar! Perhaps not surprisingly, the sweet spot for the baking-themed series is the 8+ age group, which is often the age when interested parties turn their hands to baking. The themes are a balanced recipe of friendship, family and humour — sometimes with a little magic added for flavour!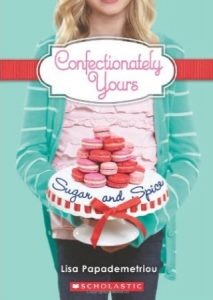 Here's a few choice series to satisfy the sweet tooth:
The Cupcake Diaries – Coco Simon, for age 7+
Best Friends' Bakery – Linda Chapman, for age 8+
Charlie Bucket (Charlie and the Chocolate Factory) – Roald Dahl, for age 8+
The Bliss Bakery – Kathryn Littlewood, for age 8+
Confectionately Yours – Lisa Papademetriou, for age 8+
The Chocolate Box Girls – Cathy Cassidy, for age 11+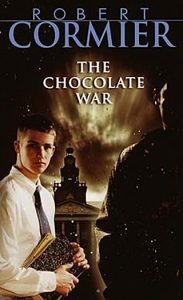 From the sweet to the bitter…
But sweetness dissolves completely in the acclaimed young adult duet series, The Chocolate War (1974). I well remember the impact of the title book from this series when I read it as a teenager. Written by American author, Robert Cormier, there is nothing sweet in this powerful story of manipulation and bullying in a private boys' boarding school. It centres on a secretive group and the pressure they bring to bear on every student to complete enforced quotas in an annual chocolate drive tradition. One new high-school freshman, Jerry Renault, decides he will defy the coercion, not foreseeing the lengths to which the others will go to make him conform.
It's a tense, compelling and authentic story in which the author doesn't shy from realistic themes of school life and the issues of peer pressure and ostracization. The book itself was ostracized for many years, as educators and librarians rejected its controversial themes of corruption, bullying and teen sexuality, mild though they are by today's measures.
Robert Cormier himself had more faith in the resilient character of young adults. When he won the American Library Association's (ALA) Margaret A. Edwards Award for his "significant and lasting contribution to young adult literature", he responded "…it is such a clear reflection of what I've always hoped my novels could do – show adolescents the bigness of what's out there and that happy endings are not our birthright. You have to do something to make them happen."
It appears third on the American Library Associations's list of the "Top 100 Banned/Challenged Books in 2000–2009". But before you panic: Harry Potter is first, Of Mice and Men is fifth, and Captain Underpants is thirteenth. Still, if the quality of Cormier's work won't encourage a reticent teen reader, perhaps that subversive nature of that listing might.
Marielle Rebbechi
Reviews
"The Chocolate War is masterfully structured and rich in theme; the action is well crafted, well timed, suspenseful; complex ideas develop and unfold with clarity." – The New York Times

"Compellingly immediate. . . . Readers will respect the uncompromising ending." – Kirkus Reviews, starred review
"Mr. Cormier is almost unique in his powerful integration of the personal, political and moral." – The New York Times Book Review
The Australian wrote that young readers "recognised his vision as authentic and admired his willingness to tell things as they are".
Awards [1]
1974 School Library Journal Best Books of the Year
1974 ALA Best Books for Young Adults
1974 ALA the Best of the Best Books for Young Adults
1974 New York Times Notable Books of the Year