Can you believe it's nearly Christmas again, already?! But what to buy for children and teenagers who often seem to have so much? Surely not more plastic and electronics.
Okay, you've got the right idea – a book – yet how to choose from the sea of books available? Young readers know what they enjoy, but it's not always the same thing Mum, Granddad, or Great Aunt Carol have in mind. So, take it from us, the book series listed here are ones every young reader would be happy to see in their Christmas stocking or under the tree this holiday season.
Hot off the press!

Browse

these

newly-minted series…
Emerging Readers (ages 5–7)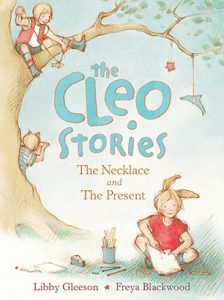 The Cleo Stories by Libby Gleeson and Freya Blackwood: Colourfully illustrated throughout, these gentle, appealing and authentic stories are perfect for transitioning young readers between picture and chapter books. Each book contains two adventures about Cleo—an imaginative, curious and fun character, whose relatable adventures about growing up and navigating the world around her will resonate with readers aged 5+.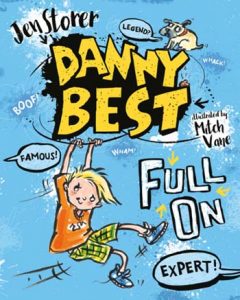 Mango and Bambang by Polly Faber and Clara Vulliamy: This new collection of four short stories features Mango Allsorts and her extraordinary new pal, Bambang, the Asian Tapir (who is definitely not a pig). The tales of these unlikely friends are accompanied by charming black-and-white illustrations making them perfect for newly confident readers aged 7+.

Danny Best by Jen Storer and Mitch Vane: Danny Best is the star of a brand new series in the style of Tom Gates but with a twist of uniquely Australian humour. He's always been pretty sure he's a hero and, now, it's confirmed! Punchy, imaginative text and energetic cartoons ensure that this confident character will become a fast favourite with readers aged 7+.
Middle Grade Readers (ages 8–10)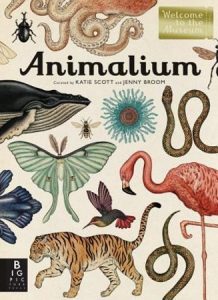 Welcome to the Museum by Various Authors: An exceptionally beautiful series of large format, richly illustrated "virtual museums" filled with fascinating facts, exhibits and specimens. While nature lovers, art fanciers and history buffs of almost any age will find something to learn and love in this series, they're designed particularly with readers aged 8+ in mind.
Magnus Chase and the Gods of Asgard by Rick Riordan: The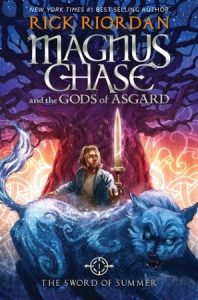 Sword of Summer is the first in a thrilling new fantasy-adventure series steeped in the mystical world of Norse mythology. Fans of Riordan's hugely popular Percy Jackson series will find themselves in familiar territory here, but with a host of new characters – both mortal and divine – to explore. Magnus Chase offers enthralling, intelligent action for readers aged 9+.
Theophilus Grey by Catherine Jinks: Theophilus Grey and the Demon Thief is the first half of a new historical mystery duolgy, set amongst the dank allies of eighteenth-century London. Twelve-year-old Theophilus must utilise his network of young spies to face off against secrets, spells and sinister nemeses. Jinks' use of historical language makes this a challenging but thoroughly immersive series for confident readers aged 10+.

Early Teen Readers (ages 11–13)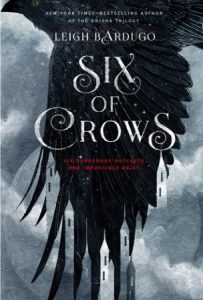 Letter for the King by Tonke Dragt: A classic of Dutch literature, it's taken more than fifty years to see the second instalment of this enchanting historical series translated into English but, truly, it is worth the wait! Dragt's carefully imagined world of kings and knights, chivalry, and magic will surely inspire devotion in readers aged 11+ who love adventure and medieval history.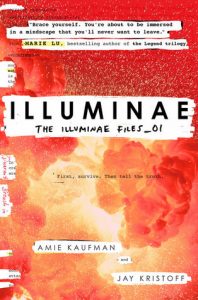 Six of Crows by Leigh Bardugo: With one acclaimed series under her belt, Bardugo has stormed the YA literary world with a thrilling new series set in the same fantasy world as her earlier novels. While it's not necessary to have read The Grisha beforehand, readers may wish to revisit it while they wait for the second instalment of Six of Crows due out later next year. High-stakes heists, riveting action and just a touch of romance make this follow-up pure reading pleasure for fantasy fanatics aged 13+.
The Illuminae Files by Amie Kaufman and Jay Kristoff: It seems every summer there's an 'it-book' which inevitably tops every YA blogger's 'to-be-read' list. In 2015, that honour is bestowed upon lluminae, the first in a highly anticipated new series which can best be described as good old-fashioned sci-fi… with zombies… and our favourite 'will-they-won't-they?' romance of the year. 9-out-of-10 bloggers agree: readers aged 13+ should read it. Read it now.
Young Adult Readers (ages 14+)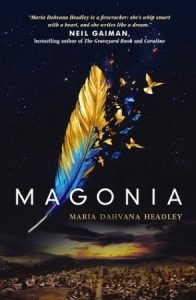 Magonia by Maria Dahvana Headley: Whenever a book is described by its publisher as "Neil Gaiman meets John Green", we're a little sceptical but – in the case of this remarkable YA debut – these are entirely justified comparisons. While there's only one book in the series so far, there's a sequel due next year so fans will have something to look forward to. With a thoroughly quirky plot and charming prose, readers aged 14+ will adore the blend of fantasy and realism Magonia has to offer.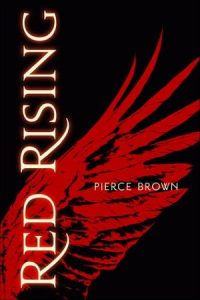 Red Rising by Pierce Brown: Dystopian fiction is not going away – that's a fact—and one we're pretty happy about, since authors keep rustling up killer ideas for societies gone mad with power and greed. What's so refreshing about Pierce Brown's Red Rising trilogy is the strong political statement it makes about inequality and the distribution of wealth. This is smart, engaging and original dystopian sci-fi and, you can bet your bottom dollar, readers aged 14+ will be hooked.
The Bone Season by Samantha Shannon: Critics heaped praise upon The Bone Season when it was released in 2013 and it's easy to see why: a compelling heroine who happens to be clairvoyant is kidnapped by a secret society determined to harness her powers for their own shadowy purposes. And did we mention the year is 2059? The sequel is just as riveting and, with five more instalments planned, The Bone Season series is pure futuristic fantasy with a mysterious edge that readers aged 14+ are going to love.
And just to keep them reading…
During the last few months, many well-established series have added new books to their number. If you'd like to explore some longer running series that will provide hours of holiday reading no matter what the age level, here are some recommendations with new releases:
Emerging Readers
Elephant and Piggie – ages 5+
Samurai vs Ninja – ages 6+
Alice-Miranda – ages 7+
Stuff Happens – ages 7+
Middle Grade Readers
Treehouse – ages 8+
Big Nate – ages 8+
Do you Dare? – ages 8+
Our Australian Girl – ages 8+
Friday Barnes – ages 9+
Blackwell Pages – ages 9+
Dork Diaries – ages 9+
The Caddy Kids – ages 9+
All the Wrong Questions – ages 9+
Thickety – ages 10+
Princess Academy – ages 10+
Early Teen Readers
Chronoptika (Obsidian Mirror) – ages 11+
The Lockwood and Co – ages 11+
Maximum Ride – ages 11+
Lorien Legacies – ages 12+
Throne of Glass – ages 13+
The Wandering Son – ages 13+ (Graphic Novel)
Young Adult Readers
Lone City – ages 14+
The Selection – ages 14+
Every – ages 14+
Wishing you a joyous & festive season from Cereal Readers!
Kara Smith