Veronica Roth
---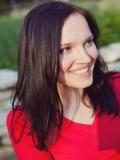 Veronica Roth was born in August, 1988. At the age of just 22, while studying creative writing at Northwestern University, she wrote her debut novel,
Divergent,
the first book in a dystopian trilogy for young adults. In early 2012, she sold the film rights to
Divergent
, and has since published the second book in the trilogy,
Insurgent
. Veronica currently lives in Chicago.
Author's Comment:
Q: What advice would you offer to young aspiring writers, who long to live a success story like your own?
Roth: One piece of advice I have is: Want something else more than success. Success is a lovely thing, but your desire to say something, your worth, and your identity shouldn't rely on it, because it's not guaranteed and it's not permanent and it's not sufficient. So work hard, fall in love with the writing - the characters, the story, the words, the themes - and make sure that you are who you are regardless of your life circumstances. That way, when the good things come, they don't warp you, and when the bad things hit you, you don't fall apart.
Nationality:
American