J.R.R. Tolkien
---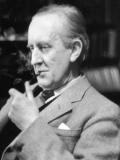 John Ronald Reuel Tolkien was an English poet, philologist, and professor, best known as the author of 'The Hobbit' and 'The Lord of the Rings.' He was born in 1892 in Southern Africa. At age three, the Tolkiens moved back to the family's native country of England. At nineteen he began to study English Language and Literature at Exeter College, Oxford. He graduated with first-class honours and then, in June 1916, he said goodbye to his wife Edith and departed for military service in France.
In 1925 he returned to Oxford and took up a fellowship at Pembroke College, where he began writing 'The Hobbit'. The great success of the Middle-Earth books led directly to a popular resurgence of the fantasy genre and, as such, Tolkien is often identified as the "father" of modern fantasy literature. He died in September 1973 at the age of eighty-one.
Author's Comment:
Fantasy is escapist, and that is its glory. If a soldier is imprisioned by the enemy, don't we consider it his duty to escape?...If we value the freedom of mind and soul, if we're partisans of liberty, then it's our plain duty to escape, and to take as many people with us as we can!
Nationality:
British