C.S. Lewis
---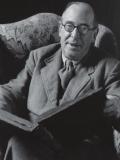 Clive Staples Lewis, though he preferred the name 'Jack', was born in Belfast, Ireland, in 1898. Lewis is known for his work as a scholar and writer who specialised in medieval literature, Christian apologetics, literary criticism, and fiction. He is best known today in secular culture for his fantasy series 'The Chronicles of Narnia', beloved by adults and children alike.
Lewis taught as a fellow of Magdalen College, Oxford from 1925 to 1954, and later was the first Professor of Medieval and Renaissance Literature at the University of Cambridge and a fellow of Magdalene College. He was a close friend of J.R.R. Tolkien. Both authors were leading figures in the informal Oxford literary group known as the Inklings and both had strong beliefs about the positive role of Christianity, frequently working religious allegory into their fantasy stories. Lewis died on November 22, 1963, aged 65.
Author's Comment:
I am a product of endless books. My father bought all the books he read and never got rid of any of them. There were books in the study, books in the drawing room, books in the cloakroom, books (two deep) in the great bookcase on the landing, books in a bedroom, books piled as high as my shoulder in the cistern attic, books of all kinds reflecting every transient stage of my parents' interest, books readable and unreadable, books suitable for a child and books most emphatically not. Nothing was forbidden me. In the seemingly endless rainy afternoons I took volume after volume from the shelves. I had always the same certainty of finding a book that was new to me as a man who walks into a field has of finding a new blade of grass.
Nationality:
Irish