Henry Winkler
---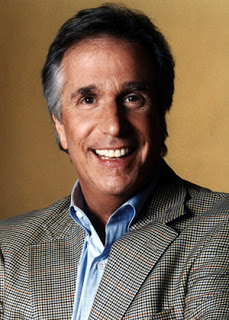 Henry Winkler is instantly recognisable and admired by audiences of all ages for his role as the Fonz on the long-running television series, 'Happy Days'. In addition, he is an award-winning producer and director of family and children's programming. He is also the author of the critically-acclaimed 'Hank Zipzer' series, which follows the everyday adventures of a bright boy with learning challenges. His second foray into children's literature is the best-selling new series 'Ghost Buddy', featuring a young boy named Billy Broccoli and his pesky new roommate who happens to be a 100-year-old ghost boy!
Mr. Winkler is deeply committed to children's welfare and works with numerous children's groups. He is involved with The MacLaren Children's Center (a facility for abused children), The National Committee for Arts for the Handicapped, The Special Olympics, and The Los Angeles Music Center's Very Special Arts Festival, as well as numerous teenage alcohol and drug abuse programs. He is a founding member of the Children's Action Network, a non-profit organisation that sponsors informational briefings for writers, producers and directors on children's issues and serves as a clearing-house for the entertainment industry on children's issues.
[Source]
Author's Comment:
Q: What was it like growing up with Dyslexia?
A: When I was growing up in New York City, no one knew what dyslexia was. I was called stupid and lazy, and I was told that I was not living up to my potential. It was, without a doubt, painful. I spent most of my time covering up the fact that reading, writing, spelling, math, science - actually, every subject but lunch - was really, really difficult for me. If I went to the store and paid the bill with paper money and I was given coins back for change, I had no idea how to count up the change in my head. I just trusted that everyone was being honest.
Nationality:
American