Susan Coolidge
---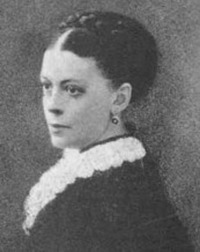 Sarah Chauncey Woolsey was an American children's author who wrote under the pen name Susan Coolidge. She was born on January 29, 1835, into the wealthy, influential New England Dwight family in Cleveland, Ohio. Her father was John Mumford Woolsey (1796–1870) and mother was Jane Andrews. She spent her childhood in New Haven Connecticut after her family moved there in 1852.
Woolsey worked as a nurse during the American Civil War (1861–1865), after which she started to write. The niece of the author and poet Gamel Woolsey, she never married, and resided at her family home in Newport, Rhode Island, until her death on April 9, 1905, at the age of seventy.
She is best known for her classic children's novel
What Katy Did
and its four sequels which together make up the
Carr Family
series. The fictional Carr family was modelled after the author's own, with Katy Carr inspired by Susan (Sarah) herself, and the brothers and sisters modelled on Coolidge's Woolsey siblings. She also wrote six novels and contributed short stories, prose verses and poetry to innumerable collections.
Author's Comment:
She read all sorts of things: travels, and sermons, and old magazines. Nothing was so dull that she couldn't get through with it. Anything really interesting absorbed her so that she never knew what was going on about her. The little girls to whose houses she went visiting had found this out, and always hid away their story-books when she was expected to tea. If they didn't do this, she was sure to pick one up and plunge in, and then it was no use to call her, or tug at her dress, for she neither saw nor heard anything more, till it was time to go home.
–
What Katy Did
(1872)
Nationality:
American