Louisa May Alcott
---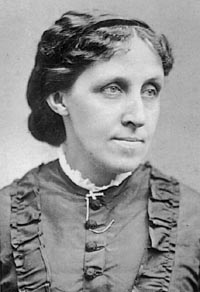 Louisa May Alcott was born in Germantown, Pennsylvania on November 29, 1832. She and her three sisters, Anna, Elizabeth and May were educated by their father, philosopher and teacher, Bronson Alcott. She grew up in Boston and in Concord, Massachusetts, where she enjoyed a literary childhood with frequent visits to Ralph Waldo Emerson's library and excursions into nature with Henry David Thoreau. Writing was an early passion and Louisa's stories often became melodramas that she and her sisters would act out for friends.
Louisa's career as an author began with poetry and short stories that appeared in popular magazines. In 1854, when she was 22, her first book,
Flower Fables
, was published. A milestone along her literary path was
Hospital Sketches
(1863) based on the letters she had written home from her post as a nurse in Washington as a nurse during the Civil War. In all, Louisa published over 30 books and collections of stories, the most famous of which were the
Little Women
books about Jo March and her sisters. Louisa died on March 6, 1888, only two days after her father, and is buried in Sleepy Hollow Cemetery in Concord.
Author's Comment:
No boy could be my friend till I had beaten him in a race and no girl if she refused to climb trees, leap fences...
Nationality:
American