Ally Carter
---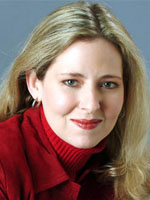 Ally Carter was born and raised in Oklahoma, United States. Her mother was a teacher and her father a farmer and rancher. She also has one older sister.
In high school, Ally was very active in a number of student organisations and graduated as co-valedictorian of her senior class. She then attended Oklahoma State University and Cornell University and worked for several years in the agricultural industry before writing full-time.
Her first adult novel,
Cheating at Solitaire
, was published in 2005 and the sequel,
Learning to Play Gin,
was published the following year. Her first novel for young adults,
I'd Tell You I Love You but Then I'd Have to Kill You
was published by Disney-Hyperion in April 2006 to worldwide success. This was followed by five other books which came to be known as
The Gallagher Girls
series. Ally has also written another popular trilogy known as
Heist Society
.
Her books have been published in more than twenty countries and have appeared on many best-seller lists. Ally considers herself one of the luckiest people being able to do the job she's wanted to do since she was a child. She is now living back in her home state of Oklahoma.
Author's Comment:
My favorite book ever is
To Kill a Mockingbird
—always has been, always will be. When I was younger I'd occasionally go through a
Nancy Drew
phase, but honestly (and a part of me hates to admit this) I wasn't a huge reader... I was outside a lot and had a very active imagination. When I found a great book I'd read it a hundred times—seriously. But, to be honest, I don't think YA fiction was as good then as it is now. Now, I can't get enough of it.
Nationality:
American