Michael Morpurgo
---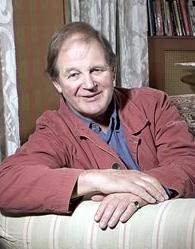 Best-selling children's and young adult author, Michael Morpurgo, was born in St Albans, England, in 1943. He attended schools in London, Sussex and Canterbury. He went on to London University to study English and French, followed by a step into the teaching profession and a job in a primary school in Kent. It was there that he discovered what he wanted to do – write. To date, Michael has published 12 picture books, 40 books for younger readers, 34 young adult books and 4 non-fiction titles.
He left teaching after ten years in order to set up 'Farms for City Children' with his wife. They have three farms in Devon, Wales and Gloucestershire, open to inner city school children who come to stay and work with the animals. In 1999 this work was publicly recognised when he and his wife were awarded an MBE for services to youth.
He is also a father and grandfather, so children have always played a large part in his life. Every year he and his family spend time in the Scilly Isles, the setting for many of his books.
Author's Comment:
We had to read the children a story every day and my lot were bored by the book I was reading. I decided I had to do something and told them the kind of story I used to tell my kids – it was like a soap opera, and they focused on it. I could see there was magic in it for them, and realised there was magic in it for me.
Nationality:
British