Nick Earls
---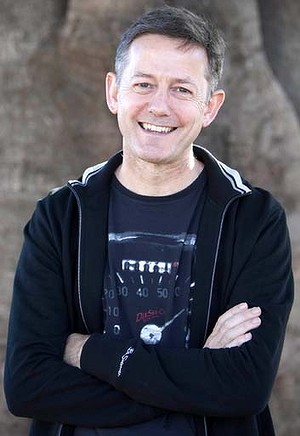 Nick Earls is the author of fifteen books, including five novels with teenage central characters. 48 Shades of Brown was a CBCA book of the year, and his other four young adult novels were Notable Books. After January was also shortlisted for the National Children's Literature Award, won a 3M Talking Book of the Year Award and was shortlisted in the Fairlight Talking book Awards. The International Youth Library, Munich, included it in its White Ravens selection of international notable new books. It was the first of five of Nick Earls's novels to become plays. Two have also been adapted into feature films.
He has an honours degree in Medicine from the University of Queensland, and has lived in Brisbane since migrating as an eight-year-old from Northern Ireland in 1972.
[Source]
Author's Comment:
Q: How did you get the first flash of inspiration for this book?
A: I'd been interested in etymology for a long time, but didn't think I'd have a way in to writing about it. Every ABC radio station has its etymology pro, and I wasn't planning to turn pro. The idea of using stages in the evolution of a word as stepping stones for an adventure story occurred to me one day in a park with my son in late 2010. We were on our way back to the car. I went home, made some notes, got online and hunted down the histories of some words. That made the idea look even better, though I knew it'd surprise people if I said I was going to write something like that. For weeks I told no one, and then I accepted that the idea wasn't going away. I talked to Terry Whidborne and, with him on board, I put the idea to my agent.
Nationality:
Australian