Rebecca Johnson
---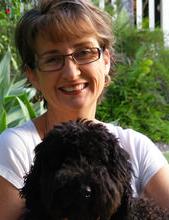 Rebecca Johnson is an author, part-time primary school Science teacher and mother of two. Rebecca regularly visits schools in South-East Queensland, presenting writing workshops using Steve Parish photographs, as she does in her own books, to inspire children of all ages to read and write. Her past experience as a wildlife carer has given her an extra insight into the behaviour of our native animals, giving her fiction stories a taste of realism.
Rebecca began writing for Steve Parish Publishing in 2000 when she came up with an idea for a series of books using his photos. Later, she developed the popular chapter book series
Juliet, Nearly a Vet
which have gone on to sell more than three million copies, capturing the imagination of children everywhere.
Rebecca received the 2010 Peter Doherty Award for Excellence in Science Teaching.
Author's Comment:
When I was growing up, I was mad about animals. Not just the normal kind like cats, dogs and horses, but anything that moved. The best part of all was that I actually lived next door to a vet! We are still great friends and he's 95 now. One of my fondest memories of growing up is going out in a canoe with my sister and brother after a f lood and ­rescuing animals that were stranded on sticks and twigs and ferrying them to safety. Not every girl I know would be happiest in a canoe full of mice, bugs and the odd green snake...but I'm sure Juliet would!
Nationality:
Australian