Isobelle Carmody
---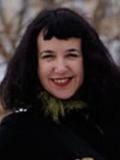 Isobelle Carmody was born in 1958, in the small country town of Wangaratta, Victoria. She writes in the science fiction and fantasy genres for children and young adults, and is most well-known for her highly acclaimed fantasy series,
The Obernewtyn Chronicles
which she began at the age of just fourteen. She continued to work on them while completing a Bachelor of Arts, majoring in literature and philosophy. Prior to becoming a full-time author, Isobelle worked in public relations and journalism. The much-anticipated final book in
The Obernetwyn
series,
The Red Queen
, will be released at the end of 2012. Isobelle's series for younger readers, include
The Legend of Little Fur
and a new series,
Kingdom of the Lost
, for which the first book,
The Red Wind,
was winner of the CBC 2011 - Younger Readers Award. Isobelle divides her time between Prague in the Czech Republic and her home on the Great Ocean Road in Australia.
[Source]
Author's Comment:
Q. What do you think has made the Obernewtyn Chronicles stand out from other fantasy novels?
Isobelle: I don't know. A lot of people told me it was because Elspeth was this strong female heroine, but it seems to me every second book has a strong female heroine these days. I do think she is a very real character - a good and well fleshed out character. But what I really think about people reading my books is this - underneath the story are these serious questions which a lot of people are asking themselves or worrying about. I think my readers don't come to my books for answers or messianic pronouncements but for that sense of exquisite alignment you feel when you have a conversation and realise that the person you are talking to really, really thinks like you and feels a lot of the things you feel.
Nationality:
Australian