Louis Sachar
---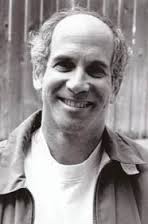 Louis Sachar was born in East Meadow, New York in 1954. He enjoyed school and was a good student, but it wasn't until high school that Louis became an avid reader – J.D. Salinger and Kurt Vonnegut were the authors who first inspired him. Some of his other favorite authors include E.L. Doctorow, Margaret Atwood, E.B White, Richard Price and Kazuo Ishiguro.
After high school, Louis attended college in Ohio and then California. He majored in Economics and took an opportunity to work as a teacher's aide at a nearby Elementary school for extra credit. Besides helping out in a classroom, he also became the Noontime Supervisor, or "Louis the Yard Teacher" as he was known to the kids. When Louis graduated in 1976 he decided to try to write a children's book, which eventually became
Sideways Stories From Wayside School
, based on the students he'd met as a teacher's aide.
Since that time, Louis has written more than twenty books for young readers and has won awards including the prestigious Newbery Medal for Literature. He writes every morning, usually for no more than two hours a day and he never talks about a book until it is finished. He lives in Texas with his wife, Carla, their daughter, Sherre, and a dog named Watson. In his spare time, Louis likes to play bridge and may often be found at his local bridge club in Austin, Texas.
[Source]
Author's Comment:
I don't really believe that writing for children is very different from writing for adults. What makes good children's books is putting the same care and effort into them as I would if I were writing for adults. I don't write anything—put anything in my books that I'd be embarrassed to put in an adult book. The literary world often places children's literature below adult literature. But looking back through the ages, the really classic children's books have all had beautifully developed plot, structure, and characterization.
I've always believed that I learned to write for children by reading books written for adults. For instance, Kurt Vonnegut's
Hocus Pocus
and William Goldman's
The Princess Bride
influenced the way I wrote
Holes
. I liked the way the opening chapters of these books were sort of short and jumpy, and how they led into the story. And
The Princess Bride
had these colorful characters and this bizarre setting, and that's sort of like
Holes
.
Nationality:
American