Jerry Spinelli
---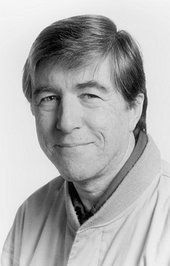 Jerry Spinelli grew up in rural Pennsylvania and went to college at Gettysburg College and Johns Hopkins University. As a child he wanted to grow up to be either a cowboy or a baseball player. Luckily for us he became a writer instead.
Jerry Spinelli began writing when he was 16 — not much older than the hero of his book
Maniac Magee
. After his high school football team won a big game, his classmates ran cheering through the streets — all except Spinelli, who went home and wrote a poem about the victory. When his poem was published in the local paper, Spinelli decided to become a writer instead of a major-league shortstop.
In most of his books, Spinelli writes about events and feelings from his own childhood. He also gets a lot of material from his seven adventurous kids! Spinelli and his wife, Eileen, also a children's book author, live in Pennsylvania.
Author's Comment:
Some people say that I write for kids. I don't. I write about kids. Whom do I write for? I write for the story. Each story, it seems to me, knows best how it should be told. As I once put my ear to the railroad track, I listen now for the voice of my story. Ideas come from ordinary, everyday life. And from imagination. And from feelings. And from memories . . .
Nationality:
American