April Genevieve Tucholke
---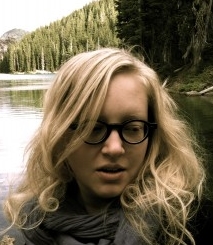 April Genevieve Tucholke is a writer who digs classic movies, red-headed villains, big kitchens, and discussing murder at the dinner table.
She is the author of
Between the Devil and the Deep Blue Sea
and its sequel,
Between the Spark and the Burn
. She has lived in many places, including Scotland, and currently resides with her husband, Nate Pedersen, in Oregon at the edge of the forest.
Author's Comment:
The idea for my first book came to me when I read this crazy article while living in Scotland: "Child vampire hunters sparked comic crackdown." On September 23, 1954, in Glasgow, hundreds of kids, age 4 to 14, started patrolling the city's necropolis, armed with sharpened sticks and knives. The kids claim they are hunting a seven-foot tall vampire with iron teeth who has already kidnapped and eaten two boys. Parents become concerned and eventually the police have to be called in to break up the hunt.
This really happened. The kids hunted the vampire for three nights. What inspired me about this article was the idea that it probably came down to one kid. One magnetic kid who told a lie about a vampire in the cemetery and made all the other kids believe him (and this kid became the foundation of River).
Nationality:
American