Dav Pilkey
---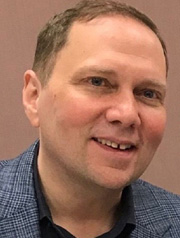 Dav (David) Pilkey was born in Cleveland, Ohio in 1966, to Barbara and David Pilkey, Sr. He has one older sister, Cindy. In elementary (primary) school he was diagnosed with ADHD (Attention Deficit Disorder) and dyslexia. He was frequently reprimanded for his behavior in class and often sent to sit at a desk in the school hallway. It was there he created the Captain Underpants character. In 1984, Dav attended Kent State University as an art major. While attending a freshman English class, one of Dav's professors complimented him on his creative writing skills, and encouraged him to write books. With this encouragement, he began working on his first children's book,
World War Won
, with which he won a national competition in 1987, and the opportunity to publish the book. He later moved to Washington, where he met his future wife, Sayuri. They married in 2005.
Author's Comment:
I don't remember much about my early childhood, except that I was almost always happy. My parents tell me that I used to laugh in my sleep all the time, even as an infant. When I wasn't laughing, I kept myself busy by drawing. While the other kids in the neighborhood were outside playing baseball and football, I was inside drawing animals, monsters, and super-hero guys. Life was pretty cool when I was little...and then school started. I used to staple sheets of paper together and make my own books. I invented a whole bunch of super heroes, including 'The Amazing Captain Underpants,' who flew around the city in his underwear giving wedgies to all the bad guys. Everybody in my class thought these comic books were really funny, except for one person - my teacher! I remember one teacher who used to rip up my books and tell me I'd better start taking life more seriously, because I couldn't spend the rest of my days making silly books. Fortunately, I wasn't a very good listener.
Nationality:
American