René Goscinny
---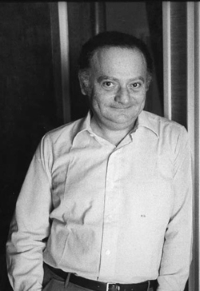 René Goscinny was born in Paris in 1926. He was best known for writing the comic strip
Astérix
, which he created with illustrator Albert Uderzo. Goscinny was reared and educated in Buenos Aires, Argentina, and later worked on children's books in New York City. In 1954 he returned to Paris to direct a press agency and soon became a writer for the
Lucky Luke
comic strip. In 1957 he met Uderzo, a cartoonist, and collaborated with him on several projects before co-creating
Astérix le Gaulois
, a comic strip that concerned itself with the adventures of a diminutive Gallic tribesman at the time of Caesar's conquest of Gaul. The title character, Astérix, and his friend Obélix belonged to the only unconquered tribe, the "Invincible Gauls." The Romans they opposed were generally made to look stupid and clumsy. Coinciding as it did with Charles de Gaulle's rise to power in France, the strip reflected certain political sentiments that were widespread at the time.
Astérix le Gaulois
became widely popular and brought substantial success to both Goscinny and Uderzo.
Goscinny married Gilberte Pollaro-Millo in 1967. In 1968 their daughter Anne Goscinny, who also became an author, was born. Goscinny died in 1977 in home city of Paris.
Nationality:
French/Argentine