Albert Uderzo
---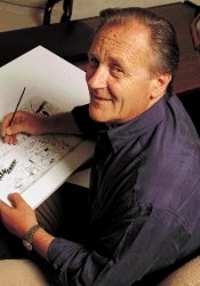 Albert Uderzo was born as the son of Italian immigrants in France. He made his first acquaintance with comics through the
Mickey Mouse
strip in Le Pétit Parisien. In 1940, when he was only thirteen years old, Uderzo was employed by the Société Parisienne d'Édition, where he learned the basics of the trade: designing text and letters, and editing photographs. His first illustration, a parody on Aesop's fables, was published in magazine Junior.
Uderzo began a successful career as an artist in Paris after the war in 1945, with creations such as
Flamberge
and also
Clopinard
, a small one-legged old man who triumphs against the odds. From 1947 to 1948 he created some other comics, such as Belloy and
Arys Buck
. Uderzo met René Goscinny in 1951. The two men quickly became good friends, and decided to work together in 1952 at the newly opened Paris office of the Belgian company, World Press. Together they collaborated on several celebrated comic strips, the most famous and popular of which was
Astérix le gaulois (Asterix the Gaul)
. The two continued to write and illustrate the
Asterix
series until Goscinny's death in 1977, when Uderzo took on the roles of both writing and illustrating the books on his own.
Uderzo married Ada Milani in 1953 and the pair have one child, a daughter Sylvie Uderzo who was born in 1956.
Nationality:
French