Dawn O'Porter
---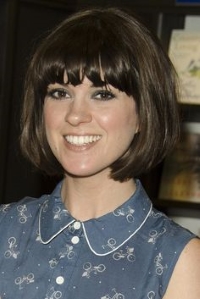 Dawn O'Porter is a broadcaster and print journalist who lives in London with her husband, actor Chris O'Dowd, their son, Art, a cat called Lilu and Potato the dog. She has made thirteen documentaries about all sorts of things, including polygamy, childbirth, geishas, body image, breast cancer and even the movie Dirty Dancing.
Dawn has written for various UK newspapers and magazines including Grazia and Stylist. She is also a highly prolific Tweeter and blogger of The Dawn Report. Although Dawn lives in London she spends a lot of time in LA and travels a lot. You may have seen her dragging two huge pink suitcases with broken wheels and a Siamese cat (Lilu) in a box through international airports. At some point she plans to get new suitcases – the cat, however, has a few years left in her yet.
Author's Comment:
I set [
Paper Aeroplanes
] in the nineties to remind us about how pure it used to be . . . I didn't have a lot of pressure in the media. We didn't know what was making us fat. We were the last generation of teenagers to have that freedom. No trolling . . . imagine being a teenager right now. Facebook, the things people say about you online . . . the conspiring that goes on, the people texting about you, we don't communicate in the way that you used to.
Nationality:
British