The Darke Toad
---
by
Angie Sage
(Author)
Mark Zug
(Illustrator)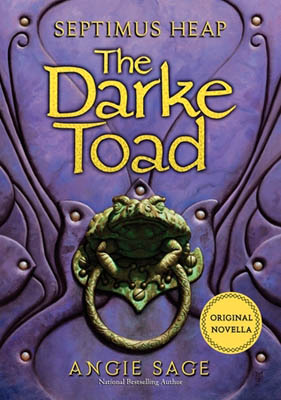 Companion book
Pages: 96

In this original e-novella complementing the bestselling Septimus Heap series, DomDaniel returns in a hilarious escapade with the witches of the Port Witch Coven. The witches want DomDaniel's powerful Darke Toad – and will go to ridiculous lengths to get their hands on it. But first, Simon Heap must get his master to the Port Witch Coven's door, which may require a bit more Darke Magyk – and a much stronger stomach – than he bargained for.

Meanwhile, ExtraOrdinary Wizard Marcia Overstrand has taken her young Apprentice, Septimus Heap, on a field trip to the Port. But what Marcia had hoped would be a fun yet educational outing quickly turns chaotic, for it slipped Marcia's mind that tonight is Hallowseeth – the perfect night for Darke mischief to go unnoticed among the revellers.

With Angie Sage's characteristic humour, beloved characters, and Magykal setting, The Darke Toad is a must-read for every Septimus Heap fan.