Scary Stories 3: More Tales to Chill Your Bones
---
by
Alvin Schwartz
(Author)
Stephen Gammell
(Illustrator)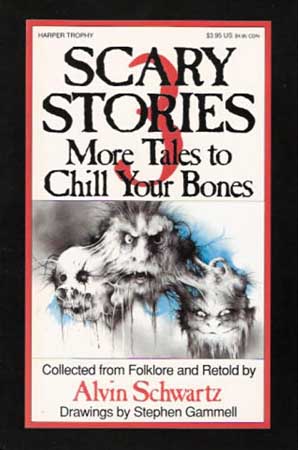 Storytellers know—just as they have for hundreds and hundreds of years—that everyone enjoys a good, scary story!

Alvin Schwartz's Scary Stories 3 joins his other popular collections of scary folklore to give readers spooky, funny and fantastic tales guaranteed to raise goose bumps.

Who is the Wolf girl? Why is a hearse filled with men with yellow glowing eyes? Can a nightmare become reality? How do you avoid an appointment with Death?

Find out in these more than two dozen genuinely creepy tales of folklore with haunting illustrations by Stephen Gemmell.