The New Girl
---
by
Meg Cabot
(Author)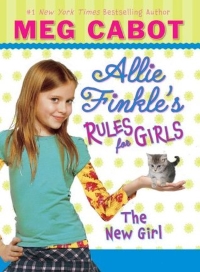 Allie Finkle's starting her first day of school at Pine Heights Elementary! Plus, she's getting a new kitten, the first pick of show cat Lady Serena Archibald's litter!

But being the New Girl is turning out to be scary, too, especially since one of the girls in Allie's new class doesn't like her. In fact, the class bully is making threats against Allie.

Everyone seems to have an opinion on how Allie should handle the situation. How will she know what to do? Who knew it was going to be so hard being the New Girl?