Warrior Princess
---
by
Jodi Lynn Anderson
(Author)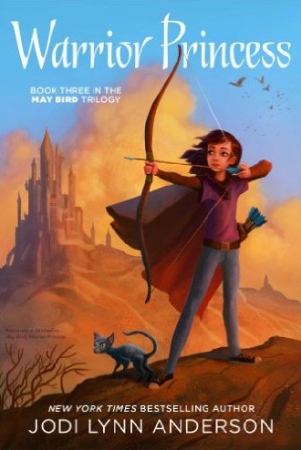 BOOK SHOP
May Bird returns to the Ever After for a ghostly showdown in the conclusion to an otherworldly trilogy from Jodi Lynn Anderson.

Three years after May Bird found her way home from the Ever After, she is still quiet and introspective, though she's gained an awkward fame in her hometown of Briery Swamp. But even though May Bird and Somber Kitty were happy to reunite with her mother, May is still haunted by thoughts of the friends she left behind. And then one night, through a most unexpected means, the Ever After is once again more than a memory...

But what May Bird discovers is devastating: the Ever After seems deserted, and evil Bo Cleevil is close to making his reign supreme. Now, with her friends missing and enemies all around her, May must find her way to the edge of the universe, where night swallows the stars, where allies are few and often have bad breath, where endings can also be beginnings, and where the truest hero lurks in the unlikeliest of souls. And Bo Cleevil's got one last trick up his sleeve – one that no one on Earth is ready for.

With the worlds of the living and the dead in the balance, will May find the courage to become the warrior she was always meant to be?

Please Note: This book was originally published as May Bird, Warrior Princess.