Treasure Fever!
---
by
Andy Griffiths
(Author)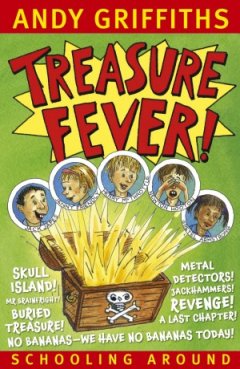 Mr Brainfright's important lesson #1: When you're breathing, it's very important not to fall out of the window. It doesn't take Henry McThrottle long to realise that Mr Brainfright, his new teacher at Northwest Southeast Central School, is rather unusual. His last teacher would never have fallen out of the window - twice - or taught Class 5C how to skid on banana peels.

But Henry's got even stranger things on his mind...on a trip to Principal Greenbeard's office, he discovers that there is buried treasure on Skull Island, which is somewhere in the school! Henry and his friends Jenny, Gretel, Newton and Jack set out to find a chest filled with gold, jewel-encrusted goblets and pieces of eight (whatever they are).

But soon their secret is out, and everyone has treasure fever. Can they find the buried treasure, beat the bully, catch the villain and save their teacher, Mr Brainfright?