What Bumosaur Is That?
---
by
Andy Griffiths
(Author)
Terry Denton
(Illustrator)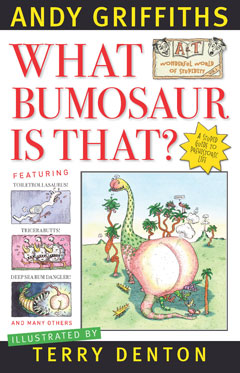 Why was Tyrannosore-arse Rex so angry? Where did Bogasauruses live? How many cheeks did a Tricerabutt have? Was the Bumheaded idiotasaurus the most stupid bumosaur? When did the bumosaurs become exstinkt?

Find the answers to these and many other questions in this fully illustrated guide to prehistoric bumosaur life. Covering Pre-crappian time through to the post Crapaceous period, this essential reference will thrill, amaze and inform the whole family. Never again will you look like a fool when somebody asks: 'What bumosaur is that?'

Published in the US as, 'What Buttosaur is That?'.