Hergé
---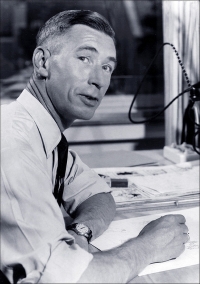 Georges Remi was born in Brussels, Belgium, in 1907.
As a young Boy Scout, his drawing skills quickly caught the attention of the Scout leaders, and it wasn't long before he was illustrating a Scout magazine and creating his first characters. Around this time, he adopted the pen name
Hergé
, the French pronunciation of his initials in reverse.
Hergé first drew Tintin in the children's pages of the daily newspaper
Le Petit Vingtième
in 1929 and the character was an immediate success. By the 1950s, the Tintin adventures had become so popular that Hergé set up Studios Hergé, supplying Hergé with a team of assistants and artists to expand the Tintin universe.
Hergé's continued to write and illustrate
The Adventures of Tintin
series until his death in 1983, leaving the twenty-fourth Tintin adventure
, Tintin and Alph-Art,
unfinished. He was inducted into the Comic Book Hall of Fame in 2003.
Author's Comment:
Tintin is myself. He reflects the best and brightest in me; he is my successful double. I am not a hero. But like all 15-year-old boys, I dreamt of being one . . . and I have never stopped dreaming. Tintin has accomplished many things on my behalf.
Nationality:
Belgian