Tintin in the Congo
---
by
Hergé
(Author/Illustrator)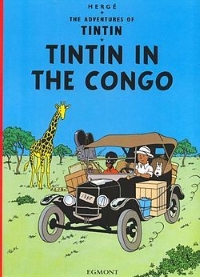 In Tintin in the Congo, Tintin and Snowy travel to central Africa to report on the situation in the Belgian Congo. Upon arrival, the duo gets pulled into a variety of adventures, encountering wild animals, angry natives and American diamond smugglers controlled by infamous mobster Al Capone.

With the help of a Congolese boy, Coco, Tintin works to improve the lives of the local population, despite close calls with crocodiles, lions, monkeys and all kinds of exotic wildlife. It is not long before he begins to uncover a sinister criminal organization exploiting the Congo for financial gain. Not only does Tintin have to watch his back to make sure the bad guys don't trap him, but he also has to work to convince some of the locals of his good intentions. This means going up against the tribal witch doctor, who is in secret allegiance with Al Capone's henchman. If he wants to survive this adventure, Tintin really has to stay on his toes!

Please Note: First published in book form in 1931 (in black & white only), Tintin in the Congo reflects the colonial attitudes of that period in its depiction of African people and its content may be considered controversial for a modern audience.This is also true of the treatment of big-game hunting and the attitude towards animals. Herge himself admitted that he was influenced by the racial and cultural stereotypes of the period.