King Ottokar's Sceptre
---
by
Hergé
(Author/Illustrator)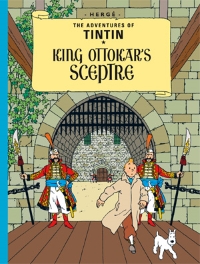 This adventure begins with a briefcase left on a park bench in Brussels. The case belongs to Professor Alembick, a sigillographer (a specialist in the study of stamps and wax seals). Doing his good deed for the day, Tintin returns the briefcase to the professor, and it is not long before he joins Alembick on a trip to Syldavia!

Upon his arrival in the Balkans, Tintin begins to uncover a plot aimed at dethroning King Muskar XII, the ruler of Syldavia. In Syldavian tradition, the king maintains his power by presenting the royal sceptre of his ancestor, King Ottokar, to his people on Saint Vladimir's Day each year. Fascist plotters plan to steal the sceptre and force the king to cancel the traditional ceremony, which would create political instability.

The plotters are working for the interests of Borduria, a neighboring country determined to annex Syldavia. The mastermind of the plot is a certain Müsstler. In true Tintin-fashion, our hero undertakes to recover the stolen sceptre and foil the coup.