Destination Moon
---
by
Hergé
(Author/Illustrator)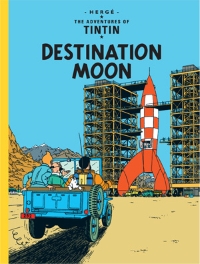 Barely have they returned from their adventures in the Middle East (Land of Black Gold) when Tintin, Captain Haddock and Snowy receive an invitation to Klow, the capital city of Syldavia. Professor Calculus is in the country working on a top-secret project in a state-of-the-art secure government facility: the Sprodj Atomic Research Centre.

The subsoil of the remote region in which the Sprodj Centre is located is rich in the radioactive element uranium. The Syldavian government and Professor Calculus's scientists hope to harness atomic energy as a way of propelling mankind into a new era of space exploration. Yet, behind the scenes, there is a sinister plot by aggressive foreign powers to hijack this technology for nefarious ends.

In the end, whatever the stakes, Professor Calculus is determined to achieve his goal: to build a rocket that will transport human beings to the moon. But who will accompany him on this historic journey?