The Broken Ear
---
by
Hergé
(Author/Illustrator)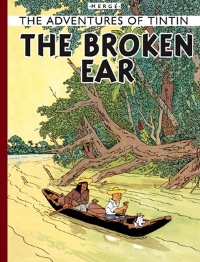 After visiting Russia, Africa, the Middle East and the Far East, Tintin sets off for South America. A mysterious statue created by the fierce South American Arumbaya tribe has disappeared, and Tintin is not the only one looking for it. Much of the narrative plays out in San Theodoros, a banana republic constantly changing hands between corrupt dictator General Tapioca and his arch-rival, General Alcazar.

The madcap adventure takes Tintin deep within the tropical jungle, where he narrowly avoids a dangerous snake and nearly has his head shrunk by tribal warriors. When he falls victim to a setup and is arrested as a terrorist, he is condemned to death by firing squad! However, there is a revolution on the horizon. Could it be his ticket to freedom?

Teeming with conspiracies and bomb plots, The Broken Ear takes Tintin on a tropical adventure, and leads him to hidden native civilizations, thieving criminals and long-lost explorers!