The Secret of the Unicorn
---
by
Hergé
(Author/Illustrator)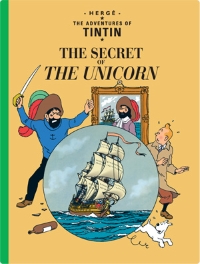 While looking around the Old Street Market, Tintin stumbles across a model ship and buys it as a gift for his friend, Captain Haddock. Little does he realize, the ship will prove to be the key to an exciting (and very dangerous) adventure.

The captain is overjoyed but astonished to receive Tintin's gift. The ship appears to be a model of a vessel depicted in the background of a painting of the captain's illustrious ancestor, Sir Francis Haddock. While looking through an old chest found in his attic, Captain Haddock chances upon the diary of his ancestor. It tells the story of Sir Francis's run-in with a fearsome pirate, Red Rackham, and also describes a priceless treasure.

Strange events begin to unfold. Tintin's flat is ransacked and a mysterious collector seems determined to buy the model ship. For Tintin and Captain Haddock - as well as a gang of crooks - the treasure hunt is well and truly on!