Explorers of the Moon
---
by
Hergé
(Author/Illustrator)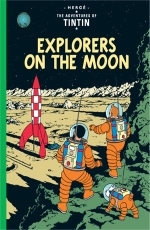 Tensions are running high at the Sprodj Atomic Research Centre near Klow, the capital city of Syldavia. Contact with the moon rocket has been lost. It seems that the passengers have temporarily been knocked unconscious by the terrible pressure exerted by the moon rocket's acceleration.

There is an unwelcome surprise in store for the astronauts when they awake. Despite the meticulous prelaunch planning, there are two extra passengers on board: Thomson and Thompson!

The extra people on board cause a shortage of oxygen: supplies have only been calculated for four people and a dog. Will the heroes manage to make it through this adventure in one piece?