Tintin in Tibet
---
by
Hergé
(Author/Illustrator)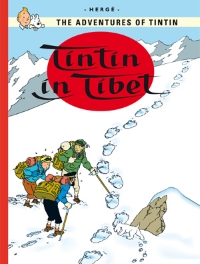 "NEPAL AIR DISASTER — NO SURVIVORS."

This newspaper headline transforms Tintin's holiday into an extraordinary adventure. The little reporter learns that his friend, Chang, was in the aircraft that crashed, and that there were no survivors. Nevertheless, the strength of their friendship and some powerful and vivid dreams convince Tintin to set off to rescue Chang, whom he believes is still alive. Accompanied by his faithful companion, Captain Haddock, Tintin sets out for the site of the crash.

The trek through the Himalayas is merciless. Despite several major setbacks and the fact that his companions seem to give up hope, Tintin's is determined. Unfortunately, finding Chang is made even more difficult by the presence of the Abominable Snowman!