The Castafiore Emerald
---
by
Hergé
(Author/Illustrator)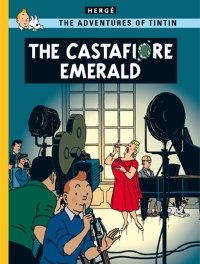 When Tintin and Captain Haddock happen across a community of gypsies they invite them home . . . just as Bianca Castafiore, the famous opera singer, decides to visit Tintin. It's chaos at Marlinspike Hall, and then a precious emerald goes missing!

In The Castafiore Emerald, Tintin and a cast of characters from his earlier adventures gather in Marlinspike Hall for a classic comedy of errors behind closed doors. Temporarily turning his back on the adventure genre, Hergé concentrates crafts a hilarious whodunnit from a series of misunderstandings and deliberate half-truths.

With impeccable humour and timing, Hergé takes his readers on a unique Tintin "adventure" . . . in which the heroes stay at home!