Flight 714
---
by
Hergé
(Author/Illustrator)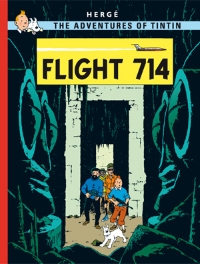 This time, after adventure upon adventure, Tintin and Captain Haddock really are going on holiday. They are on their way to the International Astronautical Congress in Sydney, Australia, where they have been invited as guests of honour. The friends are looking forward to visiting the Australian continent for the first time ever.

Through a chance meeting with Skut, a character first encountered in The Red Sea Sharks, Tintin and his friends are invited to travel aboard the private jet of billionaire Lazlo Carreidas. Unfortunately, things take a turn for the worse when they fall victim to a plot to kidnap Carreidas and are captured by Tintin's archenemy, Rastapopoulos.

Rastapopoulos transports his hostages to a small island and imprisons them. The dastardly criminal mastermind then tries to use a truth serum administered by the sinister Dr. Krollspell to extract information from Lazlo Carreidas.

But all is not lost. The heroes of the adventure are about to make some amazing discoveries on the island of Pulau-Pulau Bompa. Though their situation seems desperate, help is about to arrive from a most unexpected source!