Tintin and the Picaros
---
by
Hergé
(Author/Illustrator)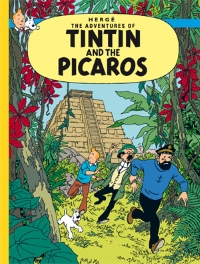 Most of Tintin and the Picaros takes place in the fictional country of San Theodoros, an unstable state first depicted in the Tintin story The Broken Ear. Two colourful characters are perpetually fighting for control: General Alcazar and General Tapioca. At the time the story is set, the latter is the master of the country, and Alcazar has been forced into hiding.

Bianca Castafiore travels to San Theodoros to give a concert. She is arrested by Tapioca's authorities on a trumped-up charge of plotting against him. Behind the scenes, Tapioca's regime is being aided by the Bordurians and Colonel Sponsz.

Tintin, Haddock and Calculus are determined to rescue their friend and, along the way, they end up helping General Alcazar plan a coup to snatch power back from his rival. However, the plans are complicated by the fact that General Tapioca keeps Alcazar's men supplied with whiskey, ensuring their ineffectiveness as a fighting force. All hope now depends on Professor Calculus and his new invention!