Tintin and Alph-Art
---
by
Hergé
(Author/Illustrator)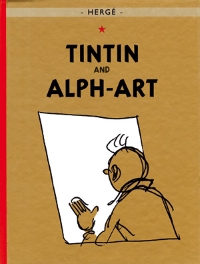 Tintin and Alph-Art is the twenty-fourth story in the Tintin series and was left unfinished. Hergé decided to write a story about something close to his heart: the world of contemporary art. For the main plot, the author wove together stories about a corrupt spiritual guru and a secret art-forging business.

In the story, Tintin receives a telephone call from Bianca Castafiore, who tells him that she has arrived in Belgium for a few days. She also tells Tintin about her new spiritual leader, Endaddine Akass. Soon after, Captain Haddock visits an art gallery and buys a piece of 'Alph-Art' – the letter "H" in plastic. The owner of the gallery is killed in an apparent accident while on his way to visit Tintin. Suspicious of the accident, Tintin begins to uncover a network of criminals.

Many old characters and some new ones show up in this adventure. Tintin thinks that he has heard the voice of the mastermind, Endaddine Akass, behind the sect and the art forgeries before. Unfortunately, the story ends prematurely, before the criminal can be unmasked – Hergé died before he could complete Tintin's final adventure – though it has been speculated that Hergé ultimately intended for the guru Endaddine Akass to be Rastapopoulos in disguise.